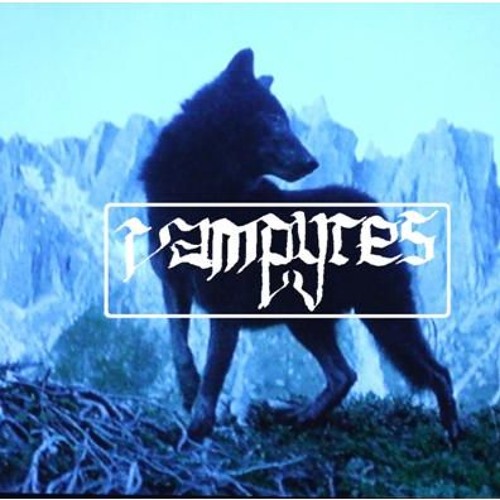 Vampyres is a hot new project by Lee Stokoe of Culver/Witchblood/Matching Head tapes/millions of other projects and Martyn Reid of Depletion (2017's
Lost Signals
tape on Matching Head was a masterpiece of grey industrial synth bleakness) and in their releases they play intense and dense droning industrialized noise quite close to Depletion. If Culver is the all-devouring primeval drone of the Great Old Ones lurking out of space to engulf us, Vampyres is the dark daily presence of Nyarlathotep, the carrier that brings the message that our technology-infested world will be engulfed in evil.
Since Lee prefers Culver and MH material not to be uploaded online, I will provide links to anything that has been posted online by labels, and links for potential purchases.
Astral Sacrifice (2017, At War With False Noise)
- Free streaming
So hypnotic and miserable is the sound that I fell asleep listening to it while waiting at a public service.
Century Scars (2017, Invisible City Records) - Free download
Damaged screaming poisoned-wind-swept noise drone.
Bloodstream (2017, Matching Head) - Buy it
Like a pool of green toxic fluids dripping from big evil factory machines.
Voyeurs At The Gates Of Hell (2018, Matching Head) - Buy it
Caustic like acid on throbbing flesh wounds with deceptive moments of lull.
At The Altar
(2018, Cruel Nature Recordings) - 1 tape remaining
Impenetrable sprawling ringing drone on a real bad trip.
Despondent Kingdom (2018, Narcolepsia) - Samples and ordering
The most recent one and possibly the best one yet along with
Bloodstream
. Three tracks of evil modular synth industrial drone of the order of Maurizio Bianchi and early Wolf Eyes.
Vampyres & Rust Ruus - Live At Club Ponderosa, Gateshead, 30 September 2017 (No-Audience Underground Tapes)
Ali Robertson & Joyce Whitfield, Vampyres, brb>voicecoil, Spoils & Relics - Live At Soundroom Gateshead 23 June 2017
(No-Audience Underground Tapes) - Contact the label for free tape copies
Two live documents of gigs of Vampyres, where they are even more deafening, abrasive and threatening. On the other side of the first tape, Rust Ruus plays high-pitched sounds which sound to me like they have been created with wind instruments - but I'm not sure. On the other tape, Ali Robertson of Usurper and Joyce Whitfield play a live set of dictaphone sounds and Posset-like autistic mouth sounds. brb>voicecoil offers a set of pulsating and slightly rhythmic/a-rhythmic electronic weirdness. Spoils & Relics sound like they are constantly connecting live wires to each other along with samples of some robotic talking are heard in the background.
Also, Vampyres have set up a
soundcloud
account, where they have posted two more tracks that I haven't seen anywhere.
(and of course, these tapes can be got via email contact)